Market Insights
Buyers are back, causing a bump in average close price (up 5%) & homes under contract (up 19%), while median days on market is down 9 days (26%).

Despite increased listing activity (up 21%) & month-end inventory 3x higher than this time last year, buyer demand continues to exceed available homes.

On average, homes closed $7500 under list price, a gap that shrunk $4500 as newer inventory is yielding more multiple offer situations.
With the Super Bowl behind us and Spring quickly approaching, the housing market in Denver Metro is heating up. Let's break it down and see what it means going forward.
Close Price is Up 5% and Should Continue to Rise
High buyer demand and an influx of new inventory starting in mid-January helped boost close price by 5% while older inventory coming off the market increased the average days on market from 46 days to 48. With newer inventory moving more quickly, the median days on market was down 9 days and should continue to drop. Average days on market will soon start to drop as well and as early as this month.
Buyer Demand Remains Higher Than the Available Inventory
New listings are up 21% and pending homes are up 19% for the month, while month-end inventory is up 208% over last year. Even with back to back increases, month-end inventory remains much lower than buyer demand. This has kept sellers in the driver's seat, though not quite in the same way as a year ago. With interest rates higher, the average buyer is being more selective and opting for move-in ready homes over having to make updates. Sellers have to be careful about pricing homes appropriately to be competitive.


Homes are Still Closing Under List Price, a Gap That is Shrinking
On average, homes are still closing under list price, but the gap shrunk $4500 as the market mixed quicker moving new inventory selling above list and older listings selling below. Multiple offer situations are in play and on the rise again as patient buyers are willing to go all in for the right home. We can expect that gap to continue to shrink and may see homes closing on average over list price again in the near future.


Inventory Will Continue To Be Strained
Inventory will continue to be strained as homeowners wanting to buy a new home opt to stay put. It's a decision between not enough space (or too much if the desire is to downsize) and paying a much higher interest rate on a new loan. Most homeowners pay less than 5% on their loan and the near 7% interest rate in the market now has meaningful impact on buying power.
Looking Ahead
The housing market in Denver Metro is gaining momentum again. Sellers have the advantage over buyers hungry for more options. Yet, buyers are being more selective, forcing sellers to be strategic with pricing and marketing. When buyers find the right home, we see that they are willing to pay and even overpay.
Interest rates remain the wild card. Time will tell whether the near 7% interest rates affecting both inventory and buying power prevent us from seeing a full scale frenzy like we did a year ago. You know I will be navigating my buyers & sellers through it all… and will report back to you what I learn.
Inside the Numbers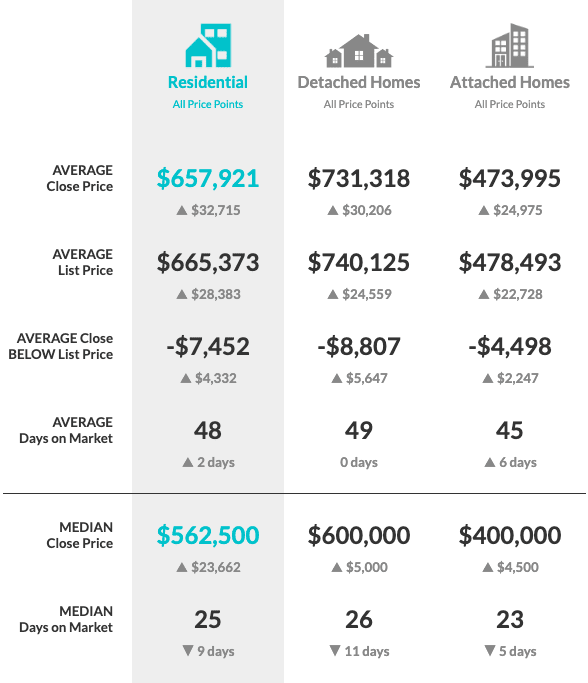 Comparing Close Price to List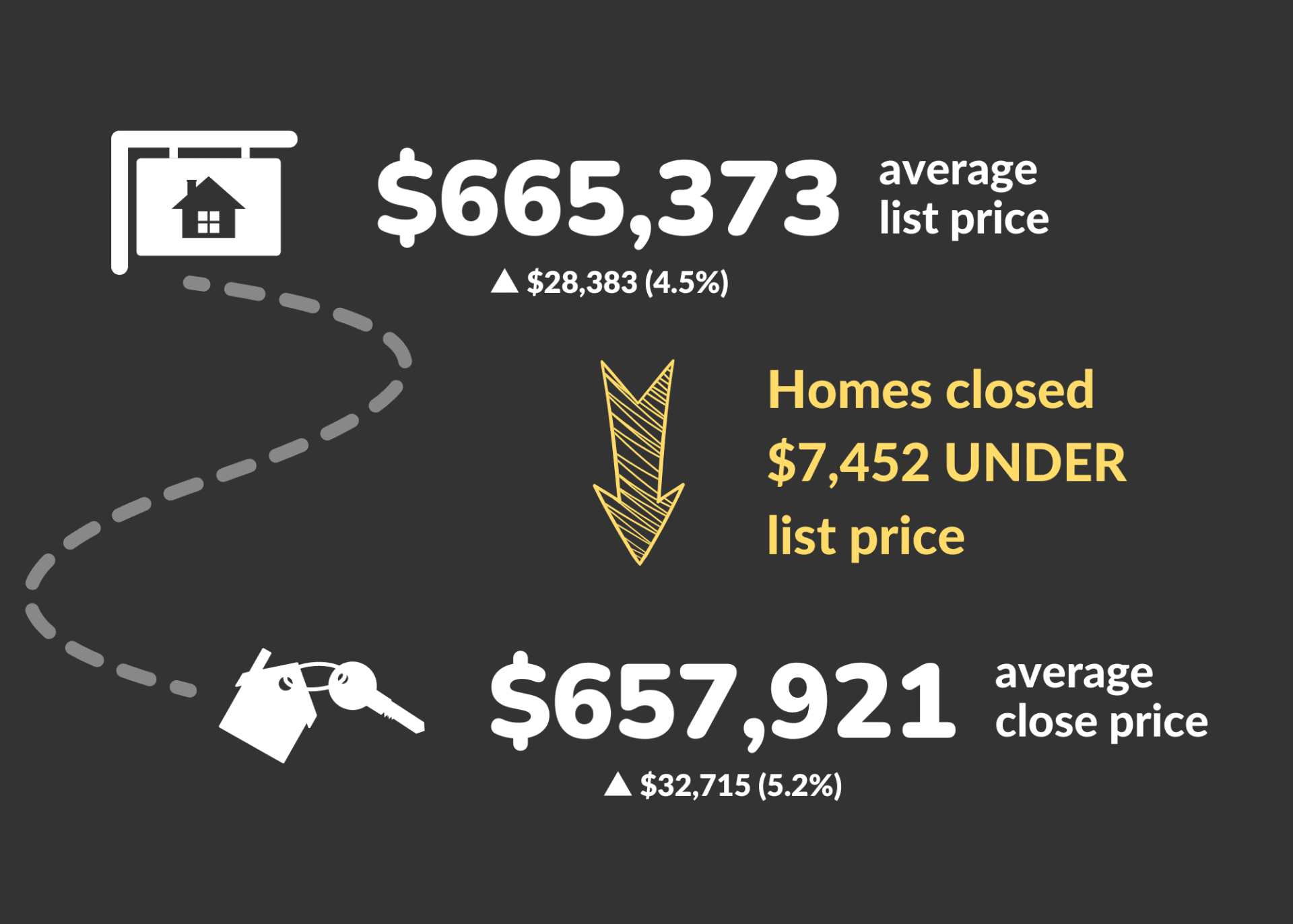 The gap between list & close price shrunk $4500 as the market mixed quicker moving new inventory selling above list and older listings selling below
Monthly Inventory Movement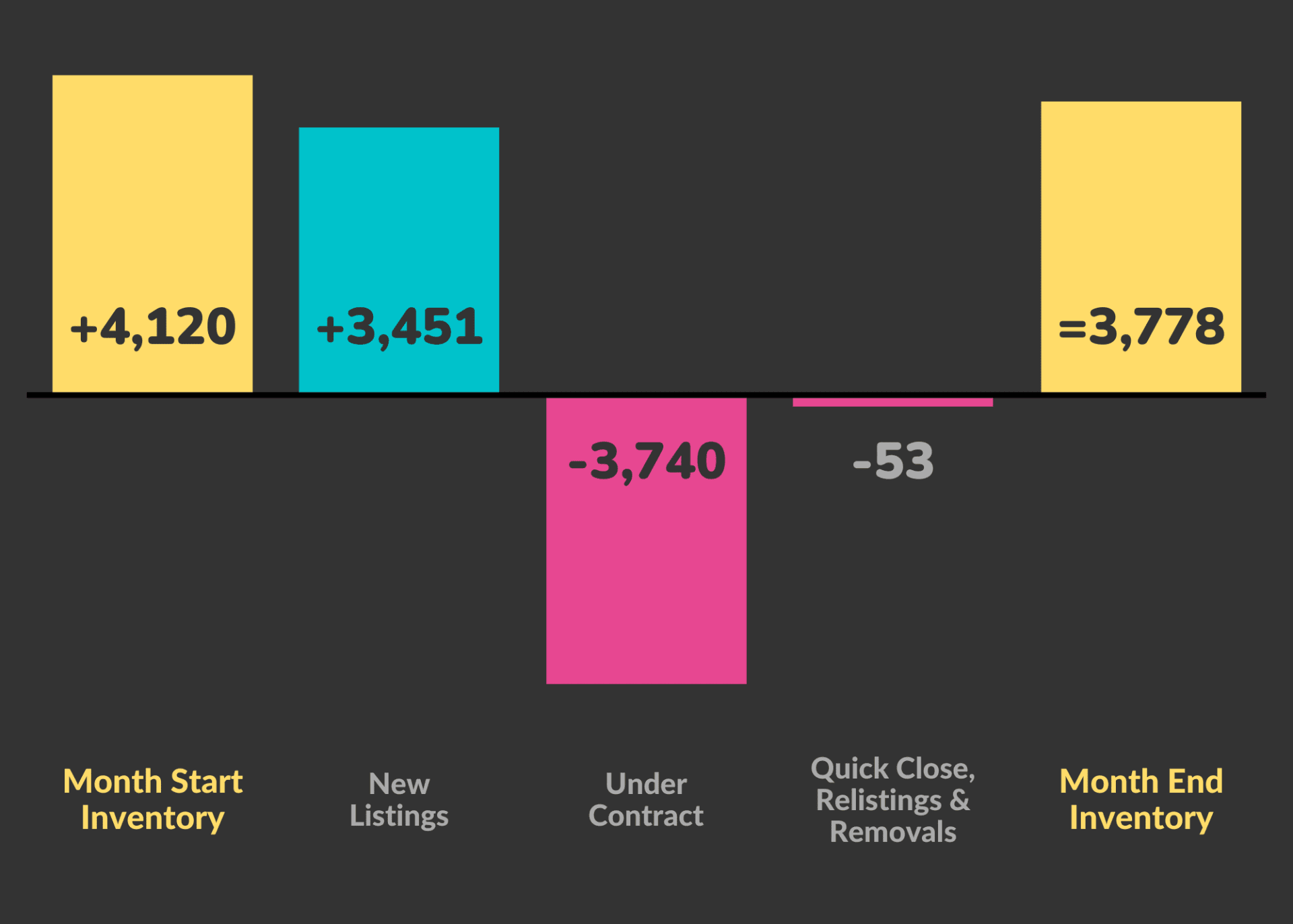 Market activity ramped up with new listings up 21%, pending homes up 19% for the month, while month end inventory is up 208% over last year
Data source: DMAR Real Estate Market Trends Report. I am member of the DMAR Market Trends Committee that compiles and publishes the report.
The Denver Metro Area encompasses 11 counties: Adams, Arapahoe, Boulder, Broomfield, Clear Creek, Denver, Douglas, Elbert, Gilpin, Jefferson, and Park.