Highlights
New listings were up 31% over the previous month, but still much lower than the 70% increase we normally see from Dec to Jan.
While sale prices were seasonally lower, buyer competition remained high, with homes closing on average $12.5k over list price (up $3k from Dec).
Increased interest rates are lowering buying power, but with expected appreciation, that $500k home now may cost you north of $550k if you wait a year.
Inside the Numbers
Sales Price
$609,132 average sale price for a home purchased during the month.

$540,000 half of the homes sold were purchased for this amount or less.

$12,470 average amount over the list price for homes closed during the month.
While the cooling in the sale price is consistent with seasonal trends, the competition remained hot with homes closing on average $12.5k over the list.
Days on Market
20 average number of days for a home to go under contract during the month.

5 half of the homes listed were under contract in this number of days or less.
Despite a 2-day uptick in average overall, most homes continue to go under contract after only one weekend on the market.
Inventory Movement
A small increase in new homes listed (+827) could not quench buyer appetite as inventory ended the month at yet another all-time low.
Homes Sold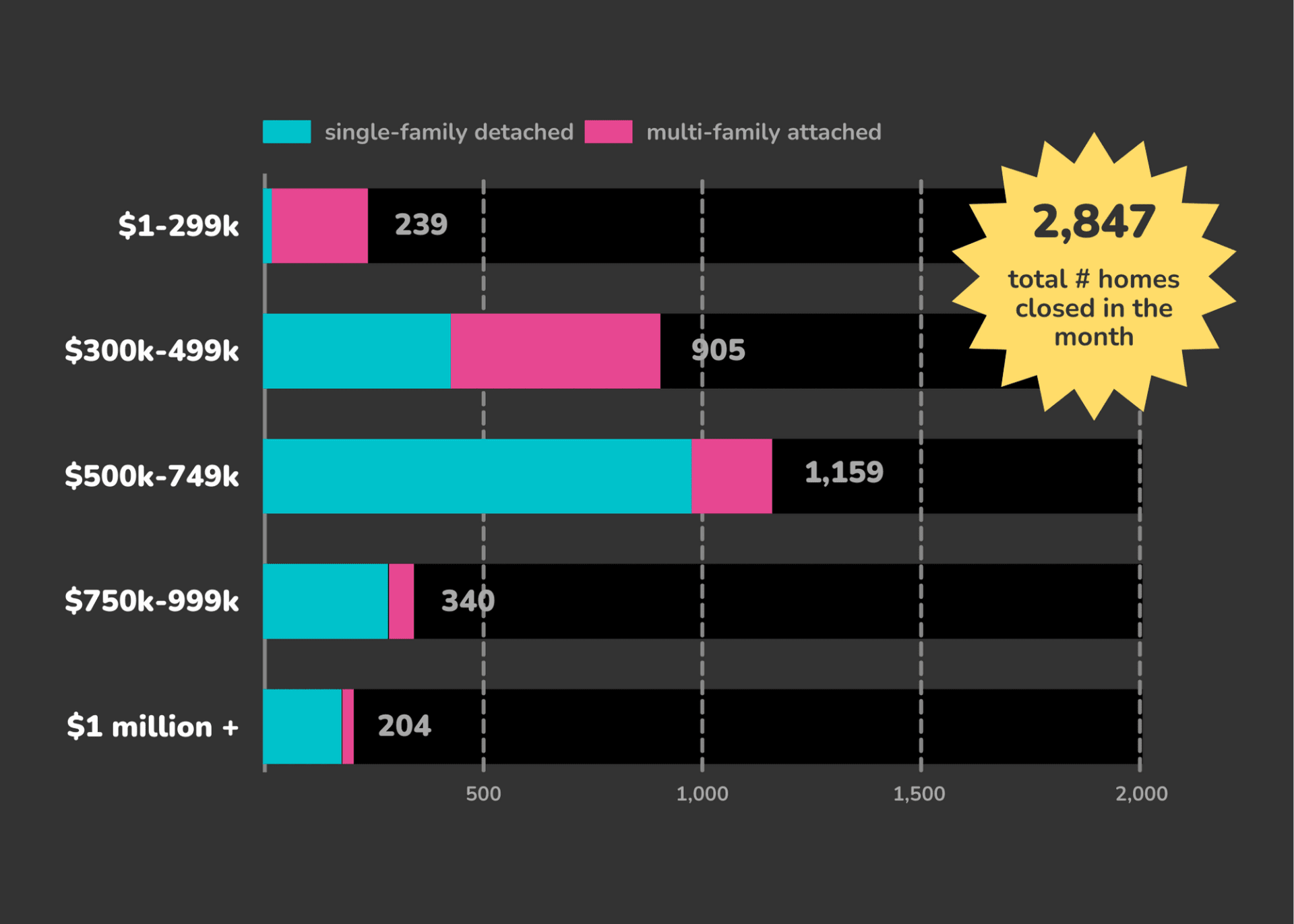 Drops across all segments are to be expected as fewer homes were listed through the holidays and thus fewer closings in January.
The chart above is called a "walk":
The first box on the left is the inventory we had at the end of the previous month (and thus the start of this month).
The second box adds the new listings which became active during the month.
These first two boxes give us our total home inventory for the month.
The third box is the number of properties that went under contract, which reduces our availability.
The fourth box shows homes that were removed from the market without going under contract, which reduces the number.
Finally we are left with the total inventory at the end of the month.
The chart above is a bar chart showing the number of homes sold in the month by price bucket. Blue is the number of detached, single-family homes; while pink is the number of attached, multi-family homes. Charts like this are helpful as they easily show where we see the most activity.
Data source: DMAR Real Estate Market Trends Report
The Denver Metro Area encompasses 11 counties: Adams, Arapahoe, Boulder, Broomfield, Clear Creek, Denver, Douglas, Elbert, Gilpin, Jefferson, and Park.