Market Highlights
While the average close price surpassed $700k for the first time since last June, prices are buoyed in the current market by low inventory and high demand.

Another 9% monthly increase in new listings could not satisfy that buyer demand as months of inventory (moi) dropped to 0.68 from 0.8.

With days on the market inching up and the average close-to-list price ratio dropping, expect the average close price to come back down as soon as this month.
Market Insights
Halfway through 2023 and the Denver Metro housing market is trailing well behind the pace set in 2022. Most notably, new listings are down 27% and, subsequently, overall sales volume is down 25%. Even though buyer demand remains high, buyers are not moving at the same frantic pace as last year — average days on the market is up to 35 days (from 11) while more than half of the homes are on the market at least 11 days (up from 4 days).

What in the name of Nikola Jokić (Go Nuggets!) is happening here? Let's dive deeper into the numbers.
The Spring Surge Was More of a Bunny Hop
Let's not skip past the fact that the average sales price leaped over the $700k threshold while closing, on average, $1638 above the list price. At $713,674, an increase of nearly $18k from last month, we are not far from the all-time high set in Denver Metro last June ($719k).
That is where the comparison to last year starts and ends though. Inventory has only increased marginally month over month in 2023 and is only at a fraction of the pace from last year. Homes, on average, sat on the market 2 weeks longer this June than last June.
The sales price is sitting on stilts created from that same high demand and low inventory. As was the case last July, when the average close price dropped back down below $700k, we expect the same this month.
Everyone Seems to Be in a Holding Pattern
Buyers and sellers are holding back and, for the most part, it comes down to interest rates. Homeowners with interest rates under 5% are looking at a jump in mortgage payments even if they downsize. Buyers, facing a higher payment with interest rates at 7%, are being more selective and waiting for the "perfect" home.
These factors are very similar to what we see in the market around the holidays, when homeowners will only sell if they have to and buyers will only move if they see the right home.
Is It a Buyer's Market or a Seller's Market?
This is a question we as experts are constantly asking of the market. Typically, months of inventory (MOI) less than 4 months indicates a strong seller's market. We are currently sitting at 0.68 MOI.
On the surface, it looks like a strong seller's market and we do see that, albeit in pockets. Homes that are priced correctly are moving quickly and seeing multiple offers in many cases. Homes that are priced too high are the ones sitting on the market longer. While this has always been a condition of the market, buyers are showing more restraint and being more selective than in the past.
Some homeowners remain stubborn and reluctant to sell for what the market is showing us because they are stuck on where the market was as recently as last year. This is not last year and buyers are paying more attention to condition (is the home move-in ready?) and location (does it back to a major street?) than ever. Sellers must factor in every detail to price a home right.
So back to the question… it is a buyer's market or seller's market? Perhaps how we define one versus the other needs to be revisited. There is a great opportunity for sellers surrounded by high demand. Yet, buyers are demonstrating a lot of power despite limited inventory. It's a toss-up.
What Does That Mean for the Rest of 2023 and Beyond?
Everything hinges on interest rates. There were predictions early in the year from experts much smarter than me that we could see rates drop back to 5.5% before the end of the year. If that were to happen, expect an influx of new homes on the market and the buyers emerging from their slumber to pounce.
Now those same experts are saying it is more realistic that interest rates will remain in the 6-7% range, which means much more of the same the rest of the year and into next year.
Where Will You Land in This Market?
It is more important than ever to have the right team at your side. If you are thinking of buying or selling, let's talk. I am here to share my expertise and guide you through the current market landscape with success.
Market Stats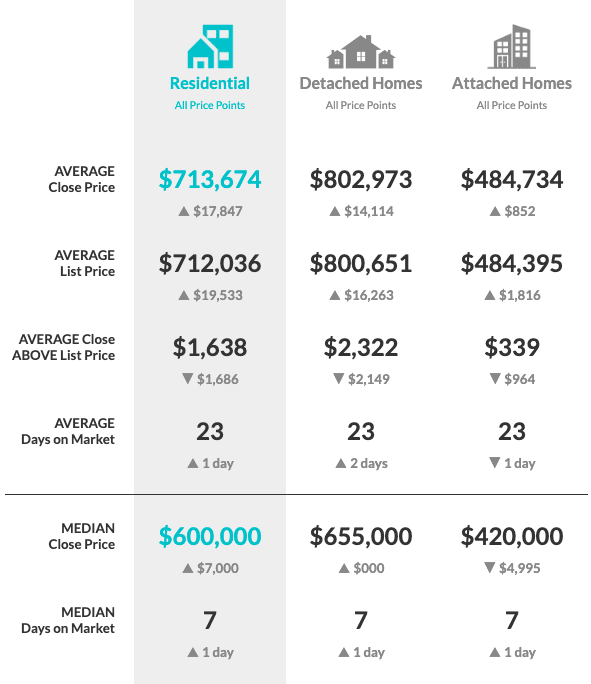 Comparing Close Price to List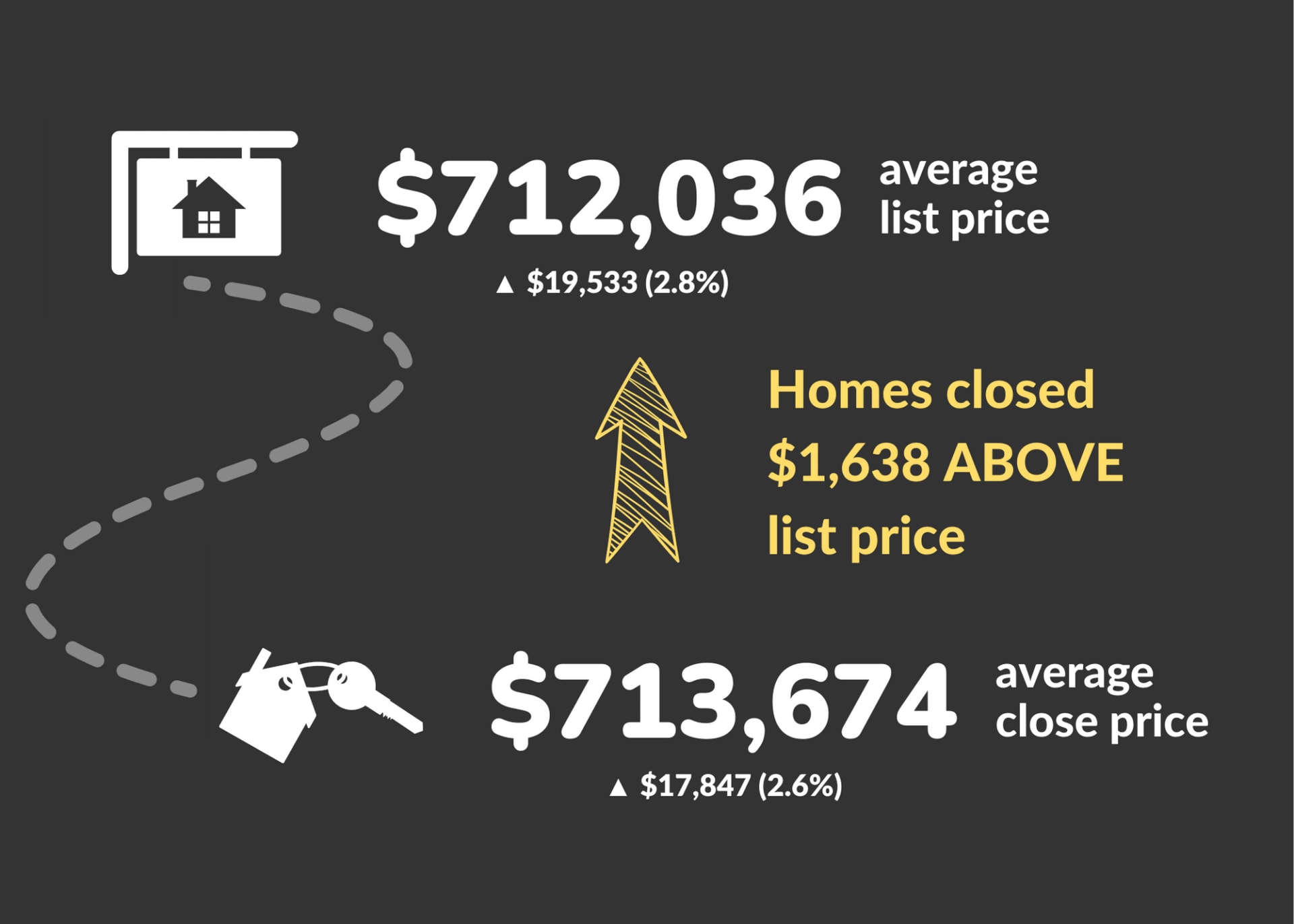 Homes closed above the list price for the 3rd straight month, but the pendulum is swinging the other way as the amount over the list was half what we saw in May.
Monthly Inventory Movement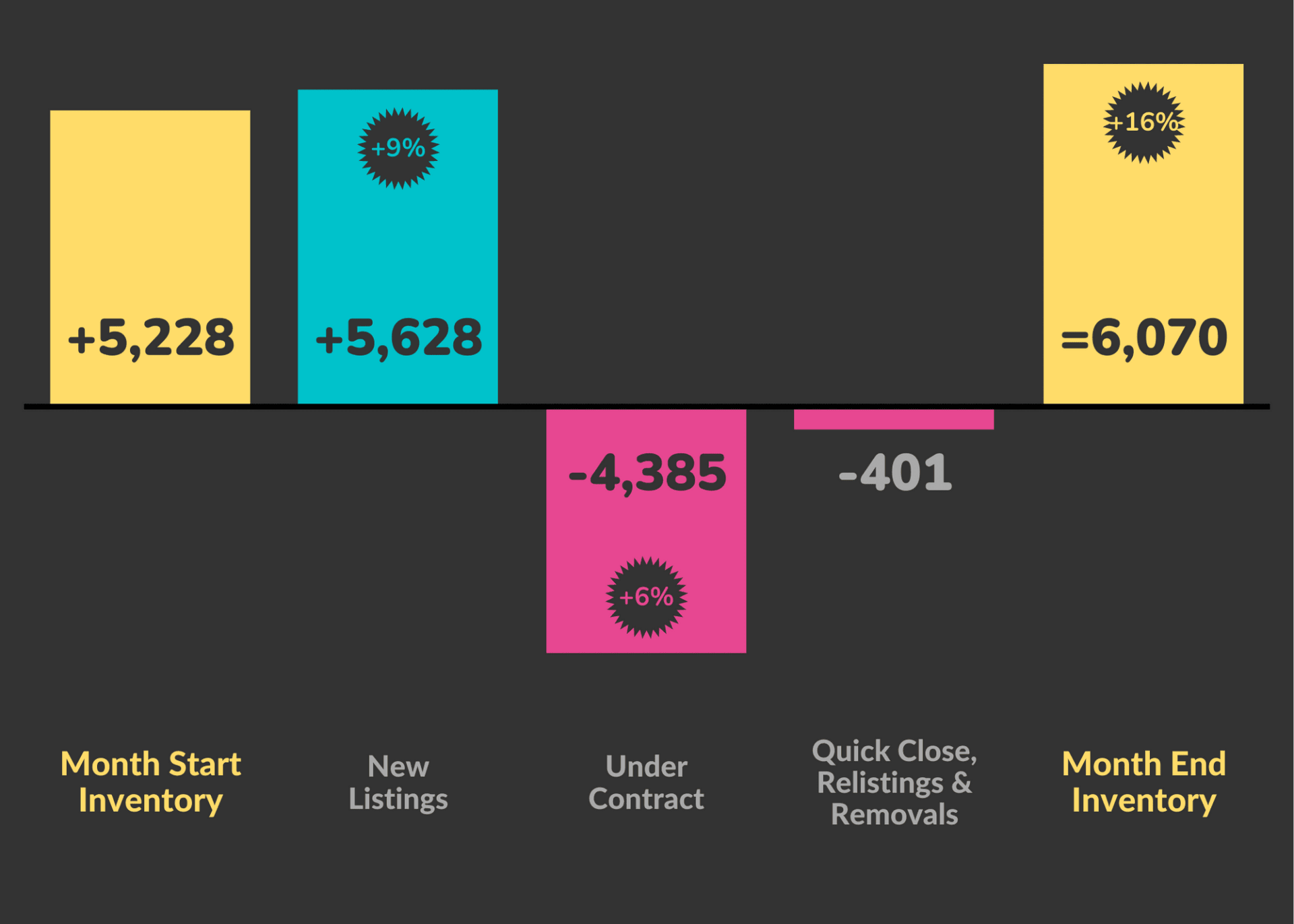 Another 9% influx of new listings provided a few more options for buyers, but new listings for the month were down 27% from June 2022.
Cover photo courtesy of Amanda Rodell. Visit her on Shutterstock at AKRodell or click here.
Data source: DMAR Real Estate Market Trends Report. I am a member of the DMAR Market Trends Committee which compiles and publishes the report.
The Denver Metro Area encompasses 11 counties: Adams, Arapahoe, Boulder, Broomfield, Clear Creek, Denver, Douglas, Elbert, Gilpin, Jefferson, and Park.